COVID-19
Following our enforced closure due to the COVID-19 pandemic, we have now been granted permission to re-open given that we can ensure our games can be operated in a safe manner.  We have followed Government Guidelines when preparing our revised procedures, and we have been awarded the "We're Good To Go" approval by Visit Britain based on these new restrictions.
This document will demonstrate the steps we have taken in order to make our experiences as safe as possible, in order to minimise any possible risk of the virus being apparent.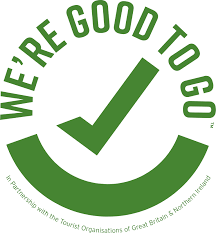 As per Government Guidelines, the Track and Trace system is no longer mandatory for all visitors on site, however it is still recommended.  Therefore we will continue to have the QR code available in reception upon your arrival for all visitors who wish to sign in (or details can still be taken manually if required).
As per Government requirements, these details will be held for a temporary period of 21 days, with all records being held securely.
A Sanitzer station will be set-up upon the entrance to the building, whereby we will be asking all customers to sanitze their hands upon entering and before heading into our reception/waiting area.
Sanitizer will also be available in the waiting area for customers to use, and staff will also be able to provide santizer to groups as soon as they have finished their experience upon the exit of the room you have been playing.
Face Masks will no longer be mandatory for all players during the experience from 19th July 2021.
Even though we are taking extra precautions with cleaning, the fact research suggests COVID particles can stay airborne for 3 hours means that masks are still a useful item in order to prevent the spread through these droplets from previous groups, and we therefore recommend players wear these during games, but we will not enforce this.
However, we will ask all visitors to please wear masks when in communual areas given you will be coming into contact with staff members and potentially other customers.  Where visitors have not brought masks with them, we can supply these.
Staff will continue to wear masks during your visit for their safety and to help protect players.
We please ask that customers try to use toilet facilities before coming to our premises - as these facilities are shared they run a higher risk of being able to transmit the disease and so if this risk can be reduced by not having to use them it will be beneficial for everyone on site.
Where required to be used, we will ensure that toilets are cleaned between each group.
As previously mentioned, the toilet will be available for hand washing facilities.
All of our rooms and communal areas have been sprayed with a special BAC5 disinfectant which has been produced to kill COVID-19 particles upon contact for up to 30 days, adding another level of assurance that all props within our rooms are as virus free as possible.
We are reapplying this spray every 4 weeks to ensure that it stays fresh on our surfaces in order to provide as much protection to our players as possible.
Games are also sprayed with an additional disinfectant spray between each game for added assurance.
Time between games will be extended in order to allow for the thorough cleaning of rooms during this time; locks, keypads, handles, surfaces and frequently used props will be cleaned and sterilised.
All communal areas will also be cleaned; the seats in the waiting areas, lockers, door handles and hand rails will be cleaned and sterilised.  We will also be removing the 'warm-up' games which could be found in our waiting area for the foreseeable future.
As also mentioned above, if toilets are required to be used, these will also be cleaned between each household.
Other cleaning requirements, such as hoovering and dusting, will also be undertaken throughout the day to ensure that the property is as clean and sterile as possible.
We will also have a reduced number of games per day based on the fact that we are extending the time between games in order to allow for the additional cleaning required.
Any players who may be feeling symptoms of COVID-19 prior to your game are pleased ask to contact us in order to postpone your booking.
Likewise, all players who have been 'pinged' regarding self-isolation will also be required to miss the booking.
If players within a group are from the same household, if one player is isolating due to having symptoms, I am afraid we will need to ask every member of the same household to also miss the booking given that they may have possibly contracted the virus but may be asymptomatic.
Where players are required to miss a game due to COVID-19, the following options are in place:
Notified with more than 48 hours prior to the game - A gift voucher can be provided for the group so tat they can rebook again in the future when all team members are available to play.
Notified within 48 hours prior to the game - Either; a) if players are from differing households, the booking can still go ahead with those players not affected and we will refund those who cannot attend or b) a gift voucher can be provided, however a £20 deduction will be made to account for the fact we may not be able to schedule in a new game due to the short notice
Gift vouchers will have no expiry date.  If a member of the group has contracted COVID-19 or has been pinged to self-isolate, please try and let us know at your earliest convenience so that we can try and find the best solution for you.
We want people to enjoy Deliverance Escape Rooms, so please work with us to the best of your ability on these restrictions. From a small, local business, sincere and genuine thanks.
We would like to thank you in advance for your co-operation, we appreciate these unprecedented times are not as straight forward as we would like, however we are confident the systems we have in place will help to ensure that everyone can stay as safe as possible, whilst still having fun and enjoying themselves.
'Escape' lockdown by escaping at Deliverance Escape Rooms!